Day 16: Thursday 2nd April ... The Barossa Operation... Who helped Snoopy ? :-)
Scroll down, for a more recent update by Robin. e.g. 1300BST Google Earth files.
I've always tended to "witter on", since a kid of 6, and usually try and stop myself, when I see my friends or wife June, nodding off to sleep. However, writing stuff down like this, means that it can later be decorated with pictures, and you can stop reading, any time. Also, those Google translation flags at the top, can make it easier, if English is not your native language. Sorry we don't have one for Americans. I'll add some more pictures, after I've had some more sleep :-)
No, these are not the guys who helped Snoopy, but it shows you where I am coming from. See the "Barossa Operation" video on my old AsOnTV page.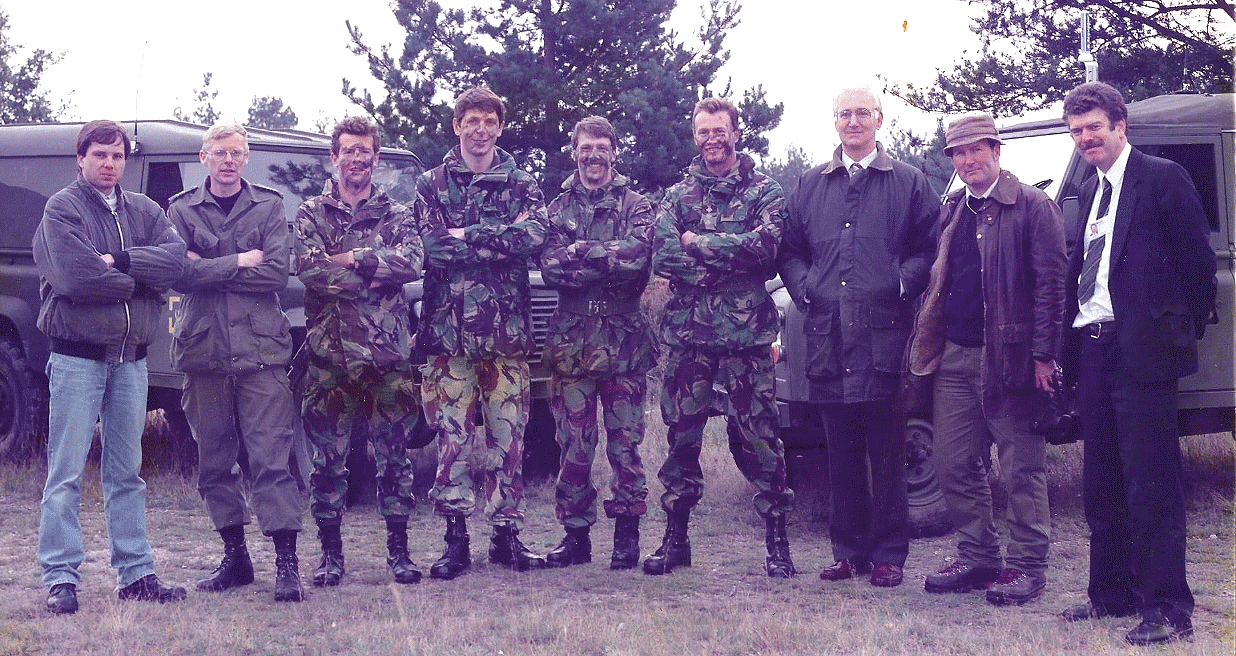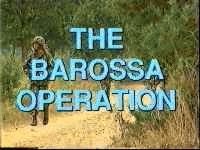 I've always been a "Civvy", but see my "History" and "Froggy" pages. This was just before the first Gulf Way, in the days of Northern Ireland Troubles and Lockerbye. These guys, who are still alive, will remember those "fun" days. This was my first experience of "knocking around" with the British Army, rather than Royal Navy, then RAF and USAFE in the 1970s. I'll only add more, if the guys above, or their families are happy. There is a Canadian soldier on the left, and the three guys on the right were my EASAMS workmates. Yes, that's me on the right, with moustache, suit, and an antenna growing out of my head :-)
Sometimes there are stronger bonds between men*, than an old school tie. e.g. the sharing of months of boredom, then fear: maybe even suffering. Sometimes "Gallows Humour" is the only thing that maintains sanity. "Having a laugh" is also needed. That's why "MASH" seemed the most realistic war movie to me for years... until "Saving Private Ryan". My father-in-Law, Jack, who is camera-shy, confirmed this with me. Jack, at 95, about the same age as Lord Carrington, is equally amazingly active and bright. Jack shared adjacent bunks at Stalag Luft 8b, German POW camp, with Sid de Hahn, who later created SAGA. They were both captured by Germans, sweeping down from Holland, while hiding in a farm house, north of Dunkirk. More of this sometime. We treasure the German POW bible, Shell case, and hand grenade Jack gave me. He is welcome to some of our junk, but there is not much chance of that. * and women, of course, as in BBC "Our Girl". That first episode was the best, and I still cannot figure out if those guys were amazing actors, or British Army film "extras".

I will soon paste in, the pictures and words, put on the GPSS.co.uk front page after Dick left here, following the AA man jump starting his Volvo. Yes Armitage Court neighbours, that's what all the noise was about this morning. Peter, and Chris in Canada: I hope to upload the I-GotU GPS track, as file RBAA15A.KMZ later this morning. This means everyone can analyse Snoopy's path, on Google Earth, trying to guess when his "sailing" stopped, probably due to solar panel wiring failure, or that broken mainsail. But by far the most interesting analyses, will be looking for when our "cockleshell heros" stepped in. Before you rush to tell me of your explanation, please make sure you've read the relevant pages, such as Snoopy's "QandA" and "Tide" pages. The analysis should be quite easy, because of that slowly varying wing, shifting between Westerly and WNW.
Imagine my surprise and delight, when, after days of expecting Snoopy to be washed onto the French coast before Calais, or further, along the Belgium and Dutch coast, like those GPS bottles tracked years ago, Snoopy turns up in that particular spot, near the Nightclub in Brighton. Now what are the chances of that ? !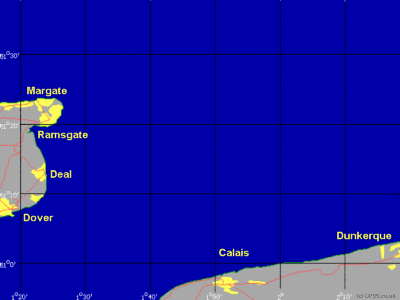 Before messing about with computer models, like my "DRIFT" one, for the GPS bottles, try drawing lines between the "slack water" positions, in Snoopy's wobbly path. e.g. those towards the east, when tide turns to flow towards the west. When Snoopy's boat has no control, like flat autopilot batteries, or a broken mainsail, I would expect the line to point downwind (e.g. towards East, or ESE), and at a speed of about 4%, in those 12 hours. If however our Sea borne heros had stepped in, and were paddling, or possibly using a powered boat, such as a RIB, that line would be directed towards their destination. e.g. a visible landmark like Brighton, rather than the Needles Lighthouse. Their path would be similar to that of a Compass-steered robot boat, making progress towards it's destination, but moving side to side with the tide. Even a faster boat, navigating in the same way, would have a similar pattern of movement, with less "wiggle" in the path.
For those using the Live shipping site, don't forget that all vessels have their AIS switched on. e.g. that Royal Marines Landing Craft Utility (LCU), caught at the end of Ben Moores 2012 BBC TV video, when Snoopy was sailing off into the distance ;-)
Newsflash 0545 BST / 0445 GMT Thursday: Snoopy safe home from Brighton. Well Done lads ! It seems it is not only Ben Hartrey, of the Coalition Club we must thank. You guys in kayaks did a grand job. Thanks for choosing such a nice spot for Snoopy to beach, and be quickly found. Also for leaving us that "message" for us - see where the mainsail sheet was tied ! :-) See Snoopy's 2012 Attempt for clues. The Snoopy's March 2015 Atlantic Attempt will soon have details, including the detailed I-Gotu track from Boscombe launch to Brighton landing. You can all come up with your own theories on 1. the "sea rescue" (kayak?). 2. when the boat failed (power?). Major rethink needed on when and where "Thankyou Celebration" should be: Brighton? RM Mess? Dress Casual, or Smart Balaclava ? Much more on that "March 2015" page above, after Robin has had some sleep. Time at nightclub, and AA callout for Dick's car did not help, but a great ending to a great Snoopy mission. That was also a well conceived "covert Snoopy rescue" training mission. Well Done Ben Hartney for finding and collecting Snoopy, and passing to Thistle Hotel, where Robin and Dick did tests and collected the all-importanf I-Gotu GPS logger data. This provides the detailed track from launch to arrival at Brighton, including after the SPOT tracking failed. Snoopy can return to Brighton for the "Celebration and Thankyou" lunch or dinner, with photo and video opportunities with the Press/Radio/TV. Thanks all those who have helped, including Jasper at The Sunday Telegraph, BBC Radio Solent and BBCTV (South), whose publicity brought our team together. Snoopy's Boat 10 is a tough little boat, having now survived four sea missions and crash landings: two on Isle of Wight, one near Portland Bill, and now Brighton. Three rescue by our hero Dick. Great Disco Ben ! Better construction needed, even if design looks good. e.g. sealing of wiring under the solar panels, and strength of that mast/boom cross piece that broke. See Robin's AsOnTV page. e.g. UK TV personalities, Chris (Ginger) Evans, Nick Knowles, Sunday Telegraph article. To tell others say "see GPSS.co.uk". If you speak to me, Robin, mention "5am Thursday", so I know you've seen this page. - MAKE THAT "1000" :-)
Don't forget those "Selfys", lads ! :-)
See Snoopy's 2012 Attempt to cross The Atlantic for the story from 2012, after he was launched on Tuesday 27th November.



In brief: Snoopy sailed straight towards his destination, despite a strong sideways tide. Then he moved AGAINST the tide ! He then landed on the steps of an old military bunker !
Newsflash at 1300BST/1200BST from Robin: Google Earth files, etc Peter and Chris in Canada (and anyone who understands this) : here are two Google Earth files I just managed to export from the I-GotU @TripPC software: rbaa15a.csv and rbaa15a.gpx. Good if someone edits (e.g. with Windows Notepad) to remove that track from Sunninghill, to before the Boscome Launch. If you are able to email me them back edited, or even as a KML file, I can modify those files above, and add relevant extra information and links. Maybe even Peter's magic map his system makes, with wind added ? We don't need tide now: just the I-GotU track, and wind vectors ;-)
That would justify an email to me, to sound the Claxon and June's recorded voice, saying "You have New email Robin, but don't you dare sneak out from that dusting, hoovering, (extreme?) ironing, cooking, etc !". June, does that Barclaycard statement on my desk diary mean that I must go into Ascot Bank today, or can it wait for tomorrow ? - don't answer now, this message is about those Google Earth files. Meanwhile, I'll sneak back upstairs, for a bit more kip. A short text, to my mobile, beside the bed, to say an email has been sent, is OK too.
Any Press/Media people: please don't 'phone me yet, but you are welcome to speed-read these pages, including AsOnTV, and the "Froggy" page, before sending me an email after 8pm BST tonight. Oh yes, if our unknown(?) friends at sea, want to contact me, you can do that ANYTIME. But, those tempted to send me a "wind-up" : you must expect to take the consequences and the wrath of Snoopy the Viking ! :-) If you do call, make very clear if it CANNOT be reported here, "in the best possible taste" obviously. I'm looking forward to adding more pictures, including frames from the video shot in the Coalition Nightclub earlier today, with Bill Hartrey, in the disco full of overseas students (many were around us in the Thistle Hotel yesterday). And your "security staff" (after I've emailed Bill the picture, and he's confirmed it's OK to publish here).
GPX seems OK, but not CSV yet. May be fixed soon, and maybe not. (e.g. wrong link?) Now 1400 BST / 1400 GMT :-)
2100 BST/2000 GMT Thursday: Peter always comes up with "the goods": there is a map below, showing the data from the I-GotU GPS Logger, that he has had available some hours ago, as a KML file. It is only my doing other things, that means I had not done it earlier. Many of you will already be looking at at least two "Quite Interesting" places that deserve closer examaination. My next task would be to rename Peter's file as "RBAA15A.KMZ", such that it presents like this on Google earth. i.e. presents Snoopy's track, and 12 minute I-GotU positions, but suppresses other things, such as waypoints, wind, and tidal urrent. It is clear, within 12 minutes, when the Snoopy hit the beach. Snoopy then moved eastward, after Ben carried him into The Coalition Cafe. The actual position appears further east, due to "GPS Scatter" inside the building.
The wind is pretty simple, and does not need inclusion: those high winds from West or WNW - toward's Calais and the French coast. If I am emailed the file, the link will obviously appear quicker. However, that is not high on my priorities.
This evening, our eldest daughter Samantha, fixed up the booking in our local Raj Vooj restaurant, mentioned in the "AsOnTV" page, and I was delighted to speak to Moona, who remembered us, and that evening when there were only two tables occupied. He promised to let our old friend Mr Khan know, and to look at www.gpss.co.uk.
MORE INFORMATION, PICTURES, AND LINKS HERE LATER, AFTER I'VE HAD MORE SLEEP ! :-)
Choice of locations for Snoopy's return visit: The Brighton Grand Hotel ("the Brighton Bombing"), The Thistle Hotel, The Coalition Nightclub. Elsewhere ?

Day 17: Good Friday 3rd April ... Who helped Snoopy ? Why Brighton Beach ? :-)
SORRY BUT GOOD FRIDAY IS OUR DAY OFF ! :-) There MAY be more pictures and information here later today, depending on what the day brings.

No 'phone calls please until Saturday, from Newspapers, Radio, Television journalists and TV personalities, polititions (?) including and up to Home Secretarys, Prime Ministers and Presidents - unless you personally have seen, however briefly, Snoopy's pages. The first thing that Robin will ask, is something to confirm that you have ;-)

Meanwhile you are very welcome to use the information from this www.GPSS.co.uk and www.NHSCare.info to meet deadlines, and brief those around you.

Have a great Good Friday - we certainly hope to ! :-)

For the moment, for our American friends across the Pond, I'll quote this, from Snoopy's November 2014 attempt. I'm hoping that family in Plymouth,MA,USA, are watching Snoopy again, and will send us that "selfy", of the young family in front of Mayflower II :-)
from Snoopy's November 2014 Atlantic Attempt ...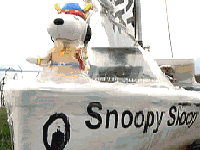 This photo below, taken in the past 24 hours, arrived in my emails this morning, 4th December, from Andy, in Plymouth,MA,USA. He first contacted me back in 2012, after their local paper had printed an article about Snoopy, about to make his first Trans-Atlantic attempt. This was after Jasper Coppings article in the Sunday Telegraph , a UK national newspaper, the Sunday before the 2012 launch. Some of you may recognise this as Mayflower II, that has appeared in our little animated robot boat picture, on the right, for years, and also on the GPS Simulation video, tucked away on our "design" and "software" pages. The older picture was taken by neighbours of ours, who - by coincidence - had visited the Mayflower earlier in 2012. In his article, Jasper said, "... to land near the spot where the Pilgrim Fathers came ashore at Plymouth, Massachusetts". My official response has always been, "You might say that, but I could not possibly comment." :-)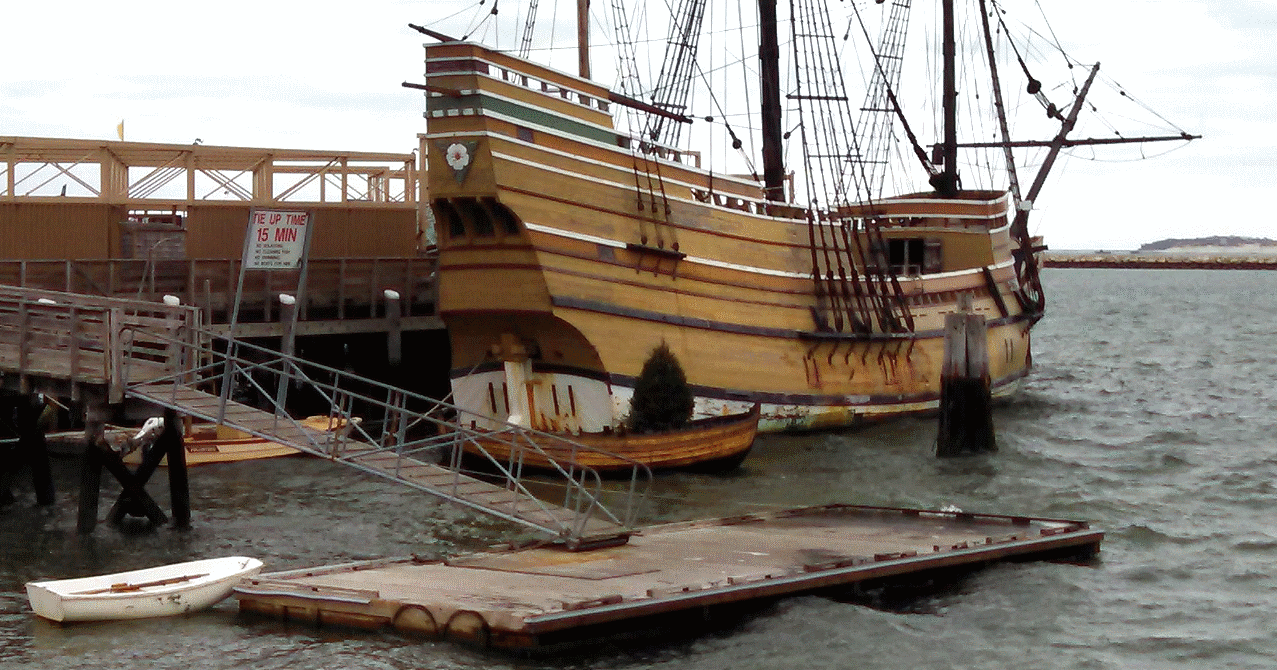 © 1991-2015 Robin Lovelock. Please credit www.gpss.co.uk if you use material from any of these pages. Thankyou.