Home . GPS . Download . Business . Partners . Contact . Family . AVL . Links . History . AsOnTV . Holidays . Snoopy
Links to Other People and Web Sites
Updated Saturday 29th December 2012 UK time
10,614 of those who have used GPSS with GPS have links here.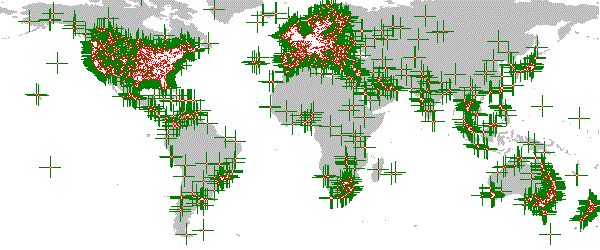 Sending e-mail to Others with an Interest in GPS & GPSS
Please do not abuse the fact that you may e-mail these people.
Please do NOT use these email addresses for bulk e-mail.
Please do not distribute these addresses to others who might mis-use them.
Note that we've used images to make it more difficult for spammers: you can read but not click on the email links.
e.g. UK Robin Lovelock on gpss


at 512382N0003960W Sunninghill. Author of this site and GPSS
These people have used GPSS and may share an interest or hobby with you.
All these people have registered GPSS after testing it with their GPS.
Very few have asked to be removed from these lists, started in 1997.
Please e-mail Robin Lovelock on gpss@compuserve.com for change of details or removal.
Please provide full contact details to give Robin confidence you are that person ;-)
Robin keeps the list up-to-date, but some links may be very old.
The last page for each country will have the most recent people joining.
Robin often find's the nearest people to you, when provided your lat/lon. *
* Please do not expect these lat/lon locations to be very accurate: some, like Robin's, may take you close to the persons home or office. However, many were submitted before May 2000, when GPS was only accurate to 100 metres. A few people prefer not to disclose an exact location, and some make mistakes when they provide this information. However, we hope the locations are accurate enough for this purpose of putting people in email contact with others near where they live, work, or visit on holiday.
USA: click here for links into Alaska, Hawaii & rest of USA
The most recent links are on the Last page of USA Links
See Central & South America below for Puerto Rico.
UK Mainland : click here for links into UK Mainland and here for last page of UK links
UK (Ireland), Channel Islands, and Eire : click here for Ireland and Channel Isles
Canada: click here for links into Canada
Benelux: click here for links into Belgium, Luxembourg, Holland
Germany: click here for links into Germany
Scandinavia: Denmark, Faroes, Finland, Greenland, Iceland, Norway, Sweden
Southern Europe: Crete, Cyprus, Gibraltar, Greece, Italy, Malta, Portugal, Spain, Turkey
Eastern Europe: Bulgaria, Czech Republic, Croatia, Kosovo, Moldova, Poland, Romania, Russia, Serbia and Montenegro, Slovakia, Slovenia, Ukraine, Uzbekistan, Yugoslavia.
Central Europe: Andora, Austria, Estonia, France, Latvia, Lithuania, Switzerland.
Africa and Middle East: Azores, Bahrain, Botswana, Canary Islands, Congo Central African Republic, Egypt, Iran, Iraq, Israel, Ivory Coast, Jordan, Kenya, Kuwait, Lebanon, Libya, Madagascar, Malawi, Mauritius, Reunion Island, Morocco, Nigeria, Oman, Qatar, Saudi Arabia, Senegal, South Africa, Sudan, Syria, Tanzania, Tunisia, United Arab Emirates, Yemen, Zambia.
Central and South America: Argentina, Barbados, Bolivia, Brazil, Chile, Columbia, Costa Rica, Dominican Republic, Equador, Falkland Islands, Grenada, Guatemala, Honduras, Jamaica, Mexico, Panama, Paraquay, Peru, Puerto Rico, Suriname, US Virgin Islands, Venezuala.
Asia: Bangladesh, China, India, Indonesia, Japan, Okinawa, Korea, Malaysia, Mariana Islands, Marshal Islands, Nepal, Pakistan, Papua New Guninea, Philippines, Singapore, Sri Lanka, Tahiti, Taiwan, Thailand, and Vietnam.
Australia Region: click here for links into Australia, New Caledonia & New Zealand
GPSS Partners list
Contact details of GPSS Partners licenced to use GPSS for Business
Software Suitable for Use with GPSS
Click here for using speech input software with GPSS.
Places to Find Links to Many More GPS Web Sites
www.maps-gps-info.com - lots of links and good info.
www.gislinx.com - lots of good GIS and GPS Links, including GPS business.
www.google.com and www.altavista.digital.com - good search engines. e.g. try "gps software" :-)
www.gpshobby.info - Introduction to Geocaching and links to geocaching sites.
NewsGroups - For Discussion, Broadcasting Questions, etc
The Forum for discussion related to GPS Software from this web site www.gpss.co.uk
alt.satellite.gps - for discussion related to GPS.
sci.geo.satellite-nav - original GPS newsgroup (more technical ?).
comp.infosystems.gis - for discussion related to GIS (Geographic Information Systems).
Psion3a Based GPS Software
http://3lib.ukonline.co.uk - Steve Litchfield's Library of Psion 3a Software.
Suppliers of Car-PC able to run GPSS
Notebook PC suppliers are too numerous to mention. These are suppliers of PC computers designed for vehicle installation. e.g. with a touch screen suitable for dashboard mounting.
David Bates, Sales Manager. Microbus Group, Treadaway Hill, Loudwater, High Wycombe, Bucks HP10 9QL, UK. Tel: +44 1628 537000. Fax: +44 1628 537301. Web site: www.microbus.com
Chad J. Rusten, International Sales Coordinator. FieldWorks, Inc. 7631 Anagram Drive, Eden Prairie, MN 55344 USA. Direct Tel +1-(612) 974-7112 Fax +1-(612) 949-2791 eFax +1-(520) 832-4334. Web site www.field-works.com
Rebecca Clark. Petards DATAX Ltd., The Old Barn, Appleford Rd, Long Wittenham, Abingdon, Oxford OX14 4PS, UK. Tel: +44 (0)1235 816474. Fax: +44 (0)1235 816005. e-mail PDataxcompuservecom. Web site www.mobiledatauk.com
Graham Chadwick, Advanced Systems Solutions (A2S). Eurohub Midlands, Birch Lane, Stonnall, West Midlands Ws9 0NF UK.
Tel +44 (0)1922 457380. Fax +44 (0) 1922 57465. e-mail chadgbtinternetcom. Web Site www.a2s.co.uk
Rufus Swart. Datalux Europe Ltd., 11 Pelham Court, Broadfield, Crawley, West Sussex, RH11 9SH, UK. Tel +44 (0) 1293 540092 Fax +44 (0) 1293 540094. Web Site www.datalux.com
Jenny Shaw. GenRad Ltd., Orion Business Park, Bird Hall Lane, Stockport, Cheshire SK3 0XG UK. tel +44 (0) 161 491 9191. fax +44 (0) 161 491 9292. e-mail shawjgenrad.comcom. Web Site www.genrad.com
GPS Technologies, Singapore eftancyberwaycom.sg e-mail Jeffrey Tan
37 Tannery Lane, #07-01 Tannery House Singapore 347790
Tel No: +65 749 5077; Fax No: +65 749 4744;
IBM DEREK_JONESVNET.IBMcom e-mail Derek Jones IBM UK Labs, Hursley Park, Wincester, UK.