Home . About . GPS . Download . Business . Partners . Contact . Family . AVL . Links . History . AsOnTV . Holidays . Snoopy
GPSS Clustrmaps test page
last update 1500 Thursday 5th November 2015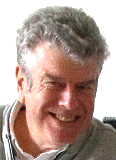 From Robin: I set this page up in November 2015 to test the Clustrmaps facility that had been useful in recent years, until it stopped working in October. The old javascript is included here, on the offchance that they get it working again. Meanwhile I can experiment with samples of their javascript for new Clustrmap counters, to see if that provides me with a "work-around".
New javascript from alternative providers ...
From Revolvermaps.com ...


Old Clustrmaps javascript that had worked for years ...
From the Home page ....

From the Snoopy page ....

From the Grumpy page ....

From the Funny Farm page ....

New reccomended javascript off Clustrmaps Support ...
For the Home page ....

from bottom of the "Snoopy" page ...
10. the Microtransat List and who visits this page ?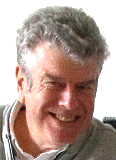 from Robin: this section tells you when, and from roughly where, guys are visiting this "Snoopy" page. Sometimes it may even give a clue to their organisation. e.g. a visit from Aberwystwyth might be someone working in their University Microtransat Team. Start with a visit to Snoopy's Microtransat Contact List. You may even wish to join it. I certainly welcome private emails from those interested in robot boats, even if you don't want to do it publicly.
For those nervous about being seen visiting this "Snoopy" page, remember that this is all done very openly, and you can all see the other visitors yourselves. Your position is only accurate to maybe 15 km/miles, and often much less. e.g. "UK". It's possible that the visit does not appear at all. e.g. those who hide their IP address. I don't - everybody knows where we live :-) I do not use cookies. Worse might be done by google searches or your email provider.
I've used free Digits web counters on the "Home" page of my GPSS.co.uk site, and charity NHSCare.info for years. I check how much they increased in 24 hours, and it gives me early warning of emails or 'phone calls, due to something like a BBC website having included a link in a news story. In recent years I've used the Clustrmaps counter, which also provides information on from where and when a visit to my web page was done. I now have seperate counters for this "Snoopy" page.
If you click on the Clustrmaps World map image below, it will take you to Clustrmaps statistics of visits to this SNOOPY page. This free Clustrmaps service relies on advertising, so you obviously do not need to click on any adverts. The service may sometimes be down, such as when maintenance is being done. If you bookmark the page, you can then visit the link, see who has visited, but not be "counted" every time you do this check. Similarly, you can see the visits to the GPSS.co.uk Home page, by clicking on that World map image, at the bottom of the page - or just visit Clustrmaps statistics of visits to the Homepage of GPSS.co.uk.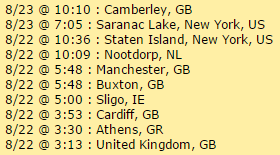 These Clustrmaps statistics include information such as in that yellow image to the left: the times of the visit are accurate, but geographic location, based on your IP Address is not. Sometimes it will only tell you the country. If it says a small town or city, it is probably wrong. e.g. my location in Sunninghill, near Ascot, UK, changes every few days with my IP address, and not as "Sunninghill" or "Ascot". e.g. "Aldershot", "Camberley", "West Drayton", "Farnborough", "Slough" or "Reading". But these places are typically within 10 or 15 miles/km of my location.
If a visit appears for this "Snoopy" page, but NOT for the "Home" page - that tells you that the visitor went direct to the page, from a search engine (e.g. google "snoopy robot boat"), from a bookmark, or from a link taken from another web site or email. This rules out someone who started on the GPSS.co.uk "Home" page, perhaps after a search on "gps software", then visited the prominently linked "Snoopy" page, out of curiosity. i.e. they are probably really interested in robot boats.
That "Live Traffic Feed" on the right is from "Feedjit", an alternative counter to "Clustrmaps", used here simply for illustration. e.g. my visits from Sunninghill, appear on Feedjit have appeared as "Godalming", "Aldershot", "Slough", "Uxbridge", or just "UK". I've never bothered to hide or disguise my IP address, as some of my friends do. I'm in the 'phone book anyway :-)
You may see your own visit as "0 seconds" and there may even be an approximate position, such as "London".
Thank you, my friends and extended family, who helped test Clustrmaps and Feedjit. The rest of you: please do not hesitate to contact me, with an email to my robin@gpss.co.uk (on my Contact page). Please tell me a little about yourself, such as what country, nearest town, and any interest in robot sailing boats or the Microtransat Challenge. Be sure to say what time you visited this "Snoopy" page, and what brought you to it.
If you know the guys who rescued Snoopy in March 2015, I owe you some beers ! :-)
There have been

visits to this page counted by Digits Web Counter since 20th August 2015.