Home . About . GPS . Downloads . Business . Partners . Contact . Family . AVL . Links . History . AsOnTV . Forum
March 2013 Atlantic Attempts
updated 9pm Thursday 17th October 2013 UK time
( material moved from Snoopy's front page )
Snoopy tried the Atlantic twice in March 2013, when we had an excellent "weather window" - but for the waves ! The last attempt was on Saturday 30th March, and before that is was on Saturday 14th March. Yes, the answer was "MagicSeaweed" :-) Enjoy the pictures and videos below.
Snoopy's attempt on Saturday 30th March ...

Is that a big wave coming ? See below the pictures for the video links. Then see "How might we beat the surf ?".
In short: the result was exactly the same as the earlier Saturday attempt - Snoopy being "tumbled over" by the surf, and having to be brought home to check out before we try again. This time the waves were even bigger than the earlier Saturday, and the video footage more dramatic of Robin and his friend Dick being knocked over by a big wave !
We've now had two successful launches from the beach at Barton-on-Sea, that you may have already seen on video: the small yellow "Snoopy Sloop 6", thrown in from rocks last summer, and "Snoopy Sloop 8" who ended up near The Needles in November. But, just as conditions looked perfect this March, we've had two failures to get past the breakers.
This needs to be a "coast to coast" project, to satisfy my goal, but maybe we can find a simple means of getting Snoopy safely out those extra few yards. We noticed that, an hour or two after our launch, the waves had subsided a little, so we may have been unlucky again. Robin's local friend Dick was there, having hired a wetsuit and kayak from Boscombe, but he'd already discovered it too difficult to get past those big breaking waves.
Much more is in the video, which will show you far more clearly what happened. But I guess this frame gives you a flavour ! :-)



Oh yes ... the video also includes some experiments that were done in using a kayak to help the launch process ...


You can now play the 30th March utube video , or some of you may be able to play the better quality video in PC WMV format. Enjoy ! :-)
See how much smaller the waves were last November, in the family video of Snoopy's launch in 2012. Maybe this can be predicted ? But we need someone to verify the method !
e.g. windfinder.com or magicseaweed.com for expected wave heights in addition to wind and weather. Any locals who can verify those wave heights by wave-watching ?
How might we beat the surf ?
I'll leave these words below, for now, in case anyone has a new idea. For now, we will use the MagicSeaweed link above to choose a good day ! :-)
Do you live near that stretch of coast, between Barton-on-Sea and Bournemouth ? Maybe you have ideas and can test them simply. e.g. predicting if the waves will be big or small - and verifying the prediction ? See above. e.g. simply watching the waves and seeing if there is a "beat pattern", such as a smallest wave, after maybe six or seven building up to the largest ? Some theory is here - but I prefer practical experiments ! :-) e.g. throwing out a tiny toy boat, with a sail, to see if it is washed in by the surf, or is carried out to sea if the wind is behind you ? Do you know someone who sails radio controlled model yachts, who might repeat what we did with success back in the summer of 2012. The picture below shows our little yellow "Snoopy Sloop 6" on old videos, quite happily going over those breaking waves. Then "Snoopy Sloop 8" did it in November 2012. It's "Snoopy Sloop 9" who has failed twice in March of this year. Maybe there's a good spot, like where a river or stream runs out to sea ? Surface rip-tide current ? Someone suggests wading out on the western (sandy) side of a groin (breakwater), preferably at low tide. Maybe you know a local person who has a bright idea - and the means of making it happen. e.g. better sea-kayaking skills ? :-)


Snoopy's attempt on Saturday 23rd March ...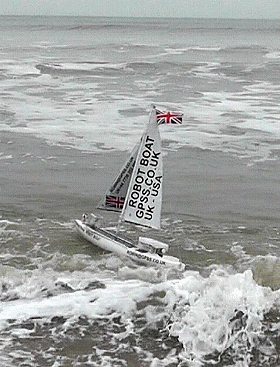 Here is the 7 minute utube video of Snoopy's Atlantic Attempt on 23rd March ( or as WMV video ) - which shows clearly what happened ! :-)
Here are two pictures, above and on right: click on them for the higher resolution versions.
In brief: Snoopy tried, but failed to get away from the beach, in waves that were bigger than on his first attempt. He sustained minor damage, easy to fix, but it was decided unwise to try again that day, and he was brought home.
June and Robin left home, with it still snowing, at 1030am, and arrived at the car park at Barton-on-Sea, not long after midday, and in time for the planned 1230pm launch. There was a small "crowd" of one - a local man who had been following Snoopy's progress over the past year. Our local friend Dick arrived as we were carrying Snoopy down to the beach, and his little key ring camera took the wide angle video clip: Snoopy and the three of us trying to cope with the waves.
The waves were bigger than in November: 1.4 metres when we launched, and here is a useful link, which shows local conditions for Barton-on-Sea. Also - maybe more significant - the offshore breeze was much less than the 20mph North wind we had in November: Just half that, at 11 mph from the East-North-East. So conditions were far more "marginal" than for the last attempt. But the real problem was Robin's over-confidence, based on the earlier attempt, and realising too late that Snoopy was going to drift back and hit the beach. Also, Robin's caution, after nearly being swept away during the November attempt, and only wading in up to his knees, instead of his waist. All is clear on the video !
The damage sustained to Snoopy's new boat was minor, and, with hind sight now, we could have re-launched him then. However, it was wise to bring him home, to be absolutely sure. We will use the opportunity to tighten up the jib, that had loosened a bit; to tighten up the lever by which the servo turns the rudder; and to stick a bit of plastic trim back onto the navigation light. We may even have time to put a lick of paint onto the rudder and the bottom of the keel, which had remained unpainted since being mended weeks ago !
© 1991-2013 Robin Lovelock. Please credit www.gpss.co.uk if you use material from any of these pages. Thankyou.