To see use of the translation flags, and translated subtitles on Youtube videos, Play Video Here . Videos only play from English pages.























Home . GPS . Download . Business . Partners . Contact . Family . AVL . Links . History . AsOnTV . Forum
Finding Falcons with GPS Software
Updated 2115 BST ( 2015z GMT/UT/GPS Time) Wednesday 15th July 2020 UK Time
The pictures below are from the 'As On TV' Page - a UK Meridian TV News item. Gary Morris gives demonstrations of Falconry, and uses 'Radio Direction Finding' to find his birds if they get lost. In recent years he has used GPSS, and appeared with Robin on UK TV, showing how this modern technology is now used in the ancient art of Falconry.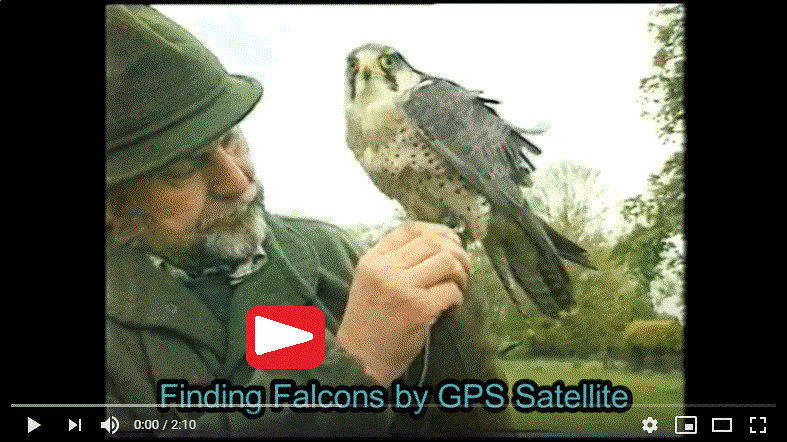 If you want to see other GPSS Television Pictures, please see As On TV
For more details on this Technology see Radio Direction Finding
To download this GPS Software visit the Download Pages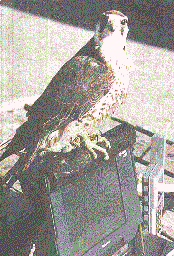 A Falconer based in North Wales is using the latest space and computer technology to track down birds that get lost. Demonstrations of the ancient art of Falconry are given all over the country. Sometimes the birds fly off and need to be found - they don't go home like racing pigeons.
Little radio transmitters, tied to their feet or tail, are picked up by a special radio, satellite receiver, and a computer carried in the car - which tracks them down. The computer shows where the falcon is on a map, and speaks to guide the driver to the bird's location - which may be miles away. When found, it is a simple matter to call the bird down to its master - although it may need to be tempted by a tasty morsel of meat !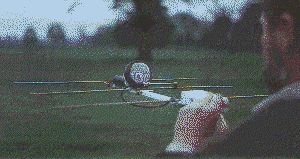 So how on earth (or space) does it work ? The little transmitter is picked up by a special radio in the car that has a directional antenna - a bit like your television aerial that needs to be pointed in exactly the right direction. This is used to find out in what direction the bird is, and the direction is entered into the computer - a Notebook PC with sound, so you can hear it speak. A GPS satellite receiver is connected to the computer, and tells it, second by second, the car's position, speed and direction. GPS is the Global Positioning System provided by the Americans - originally for the military, but now available to everyone.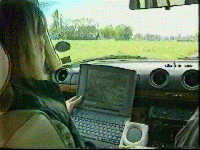 Software in the computer calculates where the directions cross one-another, and uses this to guide the driver to the bird. This works, even if the bird is still in flight, because the radio transmitter and GPS are working continuously. The 'really magic bit' is the fact that the software, called 'GPSS' for 'Global Positioning System Software', not only displays the car and bird's positions on a map, but speaks: "destination 2.5 miles north west of Pwllheli... 7 miles to our left at your 10 o'clock".
GPSS is used by the UK military, police and business communities - but is also given away free to the public via the CD-ROMs on the front of PC magazines *. This is where Gary Morris, of Bodvel Hall near Pwllheli, found it. He also confesses to using the software for what it was intended - navigating in the car, and finding the nearest filling station when you run out of petrol ! - or the nearest town, hotel or eating place. * GPSS can now be downloaded from this Internet Web Site with mapping for over 100 countries.
Gary Morris and Robin Lovelock met for the first time on Saturday 18th May '96, when Gary visited Dorney Court near Windsor to give a Falconry demonstration. Prior to that they had only conversed by telephone, fax and post. Meridian Television also came along, and a piece was broadcast on Friday 24th May.
Gary Morris can be contacted on 44 (0) 1758 613386 or e-mail BODVEL@AOL.COM
Robin Lovelock can be contacted on 44 (0) 1344 620775 or e-mail to gpss@compuserve.com
Hardware, such as the small transmitters for the birds, may be purchased from 'Wildlife Tracking Systems'. Contact Bryan Paterson on tel/fax 44 1746 714062.
footnote added by Robin on 22 March 2004: I understand Gary no longer keeps Falcons, and Bryan Pattersons number is "no longer available". However, you will also find hardware such as that described above on www.biotrack.co.uk