Home GPS Download Business Partners Contact Family AVL Links History AsOnTV
1999 News from the Lovelock Family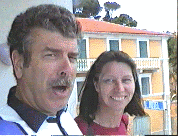 Hi there ! We hope you are all well and in good spirit. A very happy Christmas and New Year from the Lovelock Family in Sunninghill. The highlight of Robin and June's year was the 2 week tour of Italy. The "old Merc" got them back safely, with just the water-pump needing changing after 3000 miles. It was great to meet some of Robin's "Internet Friends", and to enjoy fantastic food, warm weather, and even warmer hospitality. When we were not "rushing off" to the next place, June got the chance to do what she likes: relaxing in the sun. Robin took the opportunity to check out his GPS navigation software on the road.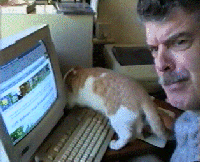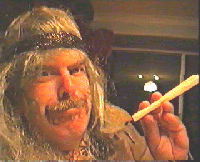 Robin spent his time talking via the Internet to "business friends" in 117 countries, where GPSS is now used, promoted on www.gpss.co.uk. He is often helped by Ginger - the Kitten - our new family member. Robin dressed as a Hippy again in this years "1960s Disco Party". June continues to work for our friends, Pam and Alan, in their thriving electronics business, bringing us a more regular wage, and honing her business skills.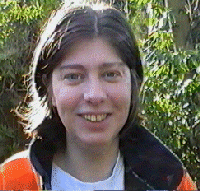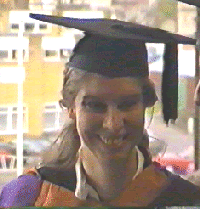 Samantha now works just a few minutes walk away in Sunninghill Village. She still attends her Japanese lessons, but hides when we have Japanese visitors, or when Robin wants some translation done. Saskia graduated this year with her B.A. in Economics, and has started work for Seiko - and now the house is full of clocks !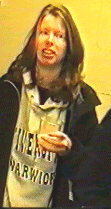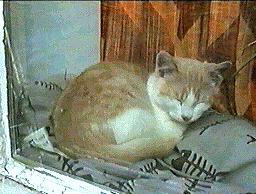 Michelle started her M.Ph. at the University of Warwick, reading Physics with Maths. She is now back home, with 4 weeks Christmas Holiday. We've had a bit of snow, so it may be a white Christmas here this year. Little Ginger thinks it is much too cold outside. Have a very Merry Christmas and a Happy New Year ! Love from us all.

For more of the Lovelock Family & Sunninghill, visit our Family Page
For more pictures of Robin & June's Holiday, visit the Holiday Page
If you want to see and hear more hamsters, visit www.hamsterdance.com

Merry Christmas and a Happy New Year !