Home GPS Download Business Partners Contact Family AVL Links History AsOnTV
GPSS CD Setup Wizard
Updated 0900 Thursday 26th July 2001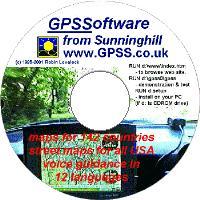 The GPSS Setup Wizard, SETUP.EXE, is for use on the GPSS CDROM . It is intended to handle the installation of the GPSS Baseline, contained in, for example, GPSS51A.EXE and GPSS51B.EXE, and additional data such as mapping and spoken languages other than English. The instructions displayed by SETUP are normally in English, but can be displayed in other languages - such as French, Italian or Portuguese. SETUP.EXE has an "open" design - and can be customised by those helping Robin create new GPSS CD Masters. It can also be used to install different combinations of mapping, languages, or configurations - such as startup logos for particular GPSS Business Partners, or configurations for remote tracking, rather than in-car navigation use.
The biggest change in the July 2001 GPSS CD, from the August 2000 CD, is the addition of street level mapping for the whole of the USA, including Alaska, Hawaii and Puerto Rico. The new SETUP Wizard supports retrieval of the 1 degree x 1 degree batches of street level mapping, from the CD. This USA street level mapping is described on the TIGER Page. The picture below shows the SETUP Wizard form, as it first appears, following the user clicking on the ">" button to select USA mapping.

The CD user would normally load the CD into his PC, RUN d:setup, then click on the "install" button, to install the default configuration of GPSS Baseline, mapping, speech, and any tailoring such as startup logos, etc. A group will then be automatically set up on his desktop, including a GPSS icon, which he clicks on to run GPSS. Other icons include those to enable browsing of Help, or the whole of www.gpss.co.uk on the CDROM.
The user is presented with information and four buttons:
"install" - as described above.
"help" - which displays help.
"advanced" - which exposes the advanced facilities.
">" - to step to the next configuration (the first is the default).
SETUP.EXE does "install" by copying EXE files from the CD (d:\www) into a temporary directory (c:\tmp), running them under DOS to self-extract the contained files, then copying these extracted files into the target directory ( e.g. c:\gpss in picture above) which will contain GPSS.EXE.
Advanced Facilities in SETUP Wizard
The picture below shows the SETUP.EXE form after clicking on the "advanced" button, which causes the SETUP form to enlarge, exposing more facilities. These facilities include finding mapping, speech or customisation (e.g. for remote tracking) by name. Mapping can also be found by name (e.g. "Jakarta"), by clicking on either of the maps, or by using a grid reference or lat/lon originating from a GPS receiver - maybe connected directly to the same (Laptop) PC, or (when remote tracking) at the other end of a communications network. Here the user is in the San Francisco area, and the SETUP Wizard has found a mapping download SANFRANCE.EXE ready to be loaded with the "Install" button. It has also found the tile of USA Street level mapping in 37N122W.EXE.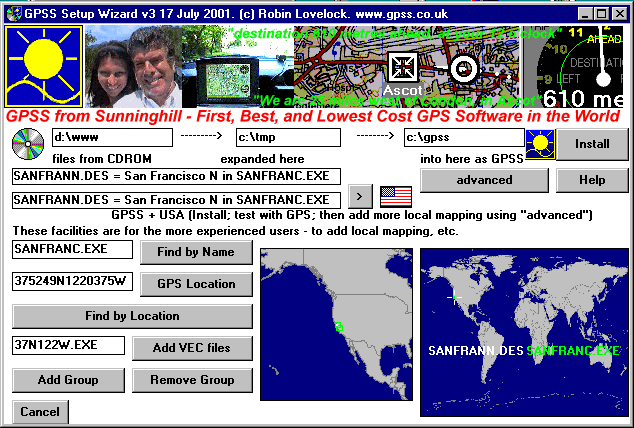 SETUP Wizard Configuration Files
None of this information should be needed by the CD user: it is provided here for GPSS Business Partners, or "enthusiasts" helping to translate SETUP text for other languages. Some of these files, and their format, are subject to change.
SETUP.EXE uses files, such as MAPSLIST.TXT and BUNDLES.TXT to enable the user to browse the data held on www.gpss.co.uk to find the download EXE he needs - according to where he is using GPSS in the World. Other text files are used to configure SETUP.EXE use in languages other than English, and/or on CDROMs for a particular GPSS Business Partner.
Tailoring of SETUP language and default configuration is achieved with simple text files.
SETUPLST.TXT - default configuration, and others
This text file, SETUPLST.TXT, describes how many configurations can be stepped through, with the ">" button, and which is the default one. i.e. the first in the list.
e.g.

13
1, GPSS Baseline Only. Install; Test with GPS or Click ">" for next Package., SHS.ICO, SETUPCFG.TXT
2, GPSS + USA (Install; test with GPS; then add more local mapping using "advanced"), USA.ICO, USACFG.TXT
3, GPSS + UK, ENGLISH.ICO, UKCFG.TXT
4, GPSS + Brazil, BRAZIL.ICO, BRAZICFG.TXT
5, GPSS + Brazil (Português), BRAZIL.ICO, BRAZPCFG.TXT
6, GPSS + Canada, CANADA.ICO, CANADCFG.TXT
7, GPSS + Canada (Français), CANADA.ICO, CANAFCFG.TXT
8, GPSS + Italia, ITALYCFG.ICO, ITALYCFG.TXT
9, GPSS + Portugal, PORTUGAL.ICO, PORTUCFG.TXT
10, GPSS + France, FRANCE.ICO, FRANCCFG.TXT
11, GPSS + Australia (then add more local mapping using "advanced"), AUSTRALI.ICO, AUSICFG.TXT
12, GPSS + Taiwan, TAIWAN.ICO, TAIWACFG.TXT
13, + Romania, ROMANIA.ICO, ROMANCFG.TXT


In this example, there are 13 configurations, and the GPSS Baseline is the default. i.e. this is what is seen when the user first does RUN d:setup
If #2 were first, the user would see the USA picture above.
User Instructions, Help, and other languages
These CFG files, such as SETUPCFG.TXT or ITALYCFG.TXT are referenced from SETUPLST.TXT and selected by SETUP.EXE to control what text is displayed to the user. Here is the text in a default SETUPCFG.TXT in English:

files from CDROM
d:\www
expanded here
c:\tmp
into here as GPSS
c:\gpss
Install
Help
GPSS Baseline
advanced
These facilities are for the more experienced users - to add local mapping, etc.
GPSS
Find by Name
512458N0004451W
GPS Location
Find by Location
Add Group
Remove Group
Cancel
Click on a map to find a map
the buttons below are STRICTLY FOR ROBIN'S USE ONLY
GPSS

Click on INSTALL to install GPSS to your hard disk.
This Help for SETUP.EXE (the GPSS Setup Wizard) is in 
setuphlp.txt. The GPSS CDROM contains a snapshot of
web site www.gpss.co.uk which contains over 2 GB of
mapping, compressed into self-extracting EXE files.
The Wizard will handle copying of the EXE files from
the CDROM (e.g. from d:\www) into a temporary
directory (e.g. c:\tmp) for self-extraction, before the
contained files are copied into the user GPSS directory
(e.g. c:\gpssxxx). A Group is setup with the
name "GPSSoftware from Sunninghill" and with icons
including GPSS.EXE and HOMEPAGE.HTM. This Wizard
can also be of some use in finding useful EXE files
to download from www.gpss.co.uk, since it contains lists
of maps and the EXE for searching by name or location.
This software is used entirely at your own risk.


and here is an Italian translation, with other minor changes:

files da CDROM
d:\www
scompattati qui dentro
c:\tmp
qui dentro come GPSS
c:\gpssit1
Installa
Aiuto
Versione base GPSS con mappe dell'Italia
avanzati
Queste istruzioni sono per gli utenti più esperti - per aggiugere delle mappe locali
GPSW
Trova per nome
512458N0004451W
GPS Luogo
Trova per Luogo
Aggiungi Gruppo
Rimuovi Gruppo
Cancella
Clicca su una mappa per trovare una mappa
I bottoni qui sotto sono TASSATIVAMENTE RISERVATI SOLTANTO A ROBIN
GPSSIT
Italian under HELP button:

Aiuto per SETUP.EXE (GPSS Setup Wizard) in setuphlp.txt
Questa è una semplice versione di SETUP.EXE destinata per il
CDROM GPSS il quale conterrà una sintesi del sito web GPSS www.gpss.co.uk
il quale contiene oltre 2 GB di mappe, compressi in un file EXE auto
scompattante.
Il Wizard terrà copia dei file EXE dal CDROM (es: da d:\wwwgpss) in una
directory temporanea
(es c:\tmp)per l'autoestrazione, prima i file contenuti verranno copiati
dentro la directory GPSS (es c:\gpssx).
Un Gruppo è fissato con il nome "GPSSoftware da Sunninghill" e con le icone
comprendenti GPSS.EXE e HOMEPAGE.HTM.
Questa semplice copia di Wizard è stata rilasciata per assistere nel test.
Può anche essere usato per trovare utili file EXE da scaricare dal sito
www.gpss.co.uk poichè contiene delle liste di mappe e gli EXE per la
ricerca per nome o luogo.
Questo software è utilizzato interamente a proprio rischio.