Home GPS Download Business Partners Contact Family AVL Links History AsOnTV
Saskia and Michelle's Parachute Jumps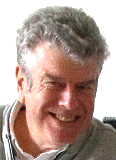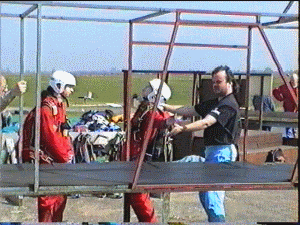 Hi ! This page is still "under construction", but it does have a few more family pictures for my friends who are interested. Early this year, our two youngest daughters, Saskia and Michelle, did a 2-day parachute training course at the British Parachute Club, based at Langer Airfield, about 2.5 hours drive north of us in UK. Unfortunately the wind was too strong, at 15 knots, for them to jump that weekend, but on Saturday 8th April, we all went up to Langer again, and the two girls made their own jump.

Michelle had a twist in the lines (happens on 30% of jumps) so this added a little excitement for her first few seconds out of the aircraft :-) Her training paid off luckily. This was Michelles first flight in an aircraft - so she has now done 1 take-off, 1 jump, but zero landings :-) You can see Saskia watching Michelle get some expert training from "Chuckles". They jump of the table - 1m off the ground - and shout "Arch Thousand ! Two Thousand ! Three Thousand ! Four Thousand ! Check Canopy !". We heard these words being shouted from different places around us, as "learners" did their "refresher training" before their jump. Saskia shouted it so loudly, we were surprised we did not hear her when they made the jump from 3500 ft :-) On the left you can see Michelle and Saskia checking their instruments which include an altimeter, and radio receiver - so they can receive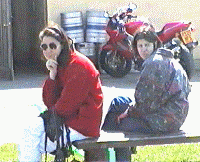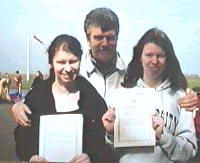 some expert instruction from the ground - like making sure they land into wind ! On the right you can see June, anxiously watching, and Samantha - glad she wasn't making a jump :-) Just in case you were wondering - no it was not Robin's daft idea for these two to jump out of an aircraft. Not sure which of them thought of it first - but they both decided to do it - and so we were stuck with watching them.
Finally, you see from left-to-right, Saskia, Robin and Michelle, proudly holding their Certificates.
For more of the Lovelock Family & Sunninghill, visit our Family Page