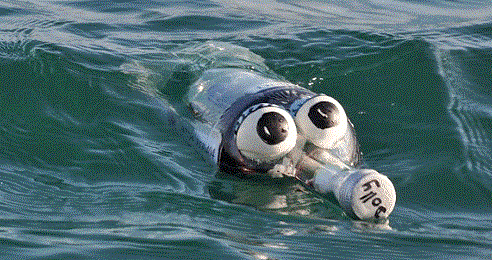 where are the bottles launched by BBC Radio Solent ?
Visit The full BBC Radio Solent GPS Bottle Story for the latest news and what's happened to the three bottles.
DO NOT TAKE RISKS TRYING TO FIND HARRY OR DOLLY ! See the above link for details.
e.g. on Friday 5th August the latest news was:
Harry Hampshire: waiting to be picked up from the beach on Isle of Wight ? Last seen here
Dolly Dorset: may now be on an Isle of White beach between The Needles and St Catherine's Point ?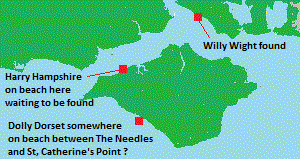 Here WAS Willy Wight found wrecked on rocks at Hill Head.
Here WAS Harry Hampshire Not updated but waiting to be found !
Here WAS Dolly Dorset - before re-launch. Waiting on a beach ?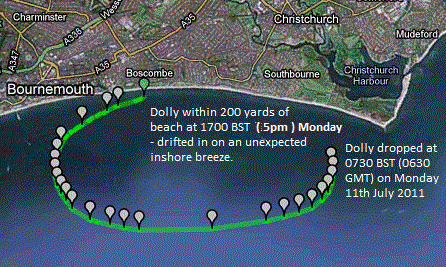 Above links say "WAS" because no recent reports have been heard from the bottles. When they were reporting, the GPS tracker in the bottle could be hidden from the mobile 'phone network on the shore, by waves, but many position updates still got through. You can see when reports were last received from the time. e.g. "20:00" Chinese time - 7hrs = 13:00BST = 1pm UK time :-)
other useful links ...
BBC Radio Solent Summer Splash - see "Bottle Battle" :-)
The BBC Radio Solent website is here and you can listen live here
The full BBC Radio Solent GPS Bottle Story is here - including how the bottles were made.
The full GPS Bottle Story of over 7 years ago - from UK to France and Holland ! :-)
Robin's daft robot boat hobby page - first sea trials to be near Southampton ? :-)
Robin's charity site - the Law demands the NHS pay all Care Home fees.
experimental "history" maps ...
Here are the experimental maps for the trails of where the bottles have been:
Dolly Dorset history and Harry Hampshire history and Willy Wight history
These are not easy to use, because of the +7 Chinese time, but you may be lucky :-) Please remember that they are still experimental - made by our Chinese friends in Shenzhen :-)
1) Click on a link like Dolly Dorset. 2) click on the left white box and select "today". 3) click on right white box and select "today" - then add 7 hours to the time. 4) click on the [start playback] button.