Stand 262 at The London Motorshow
Updated 1500 Monday 13th October 1997
Ready for you - despite some minor problems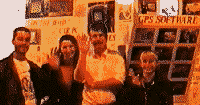 Peter, June, Robin and Lorraine, late Sunday evening after setting up the stand.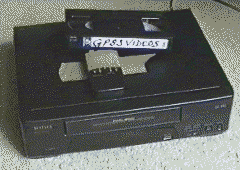 Unfortunately, someone stole our VCR and telephone - and more importantly - the remote control needed to switch the TV to video. Looks like Robin will have to take the replacement VCR in with him each day. We guess Pinkerton Security cannot be expected to watch every stand. Any amatuer sleuths out there in the London area - you may find the video tape or Alba remote control in a bin - but guess that's an outside chance. It's a MATSUI VX1105 - the cheapest that Dixon's sell - with the Alba remote taped to the top with brown parcel tape. The VHS cassette is labelled in red, "GPSS VIDEOS".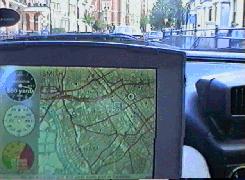 "Destination exhibition, 560 yards to our right at your 3 o'clock". For those who want to use GPSS to get to Earls Court, the grid reference is TQ252782. So typing `tq252782 followed by Enter then D will make it the destination. Peter Allen drove us up Sunday, while Robin filmed the journey with the Laptop perched on his knees - taking care not to include the speed dial in camera shot too often :-)
If you want to call us on the stand, the telephone number is 0171 244 3334.
Press Release - The London Motor Show '97 - GPSS and 'Global Success'.
It would be difficult to match the Television News coverage we obtained at the last London Motor Show, two years ago - 100% of Carlton's piece reported by Paul Larson, the best 50% of Chris Wain's story on BBC1 National News, and that in Simon Montgomery's broadcast for BBC Newsroom South East. All this, despite the fact that we were not at the show. The speaking GPS car navigation software made good television - it still does - and was genuinely newsworthy since it had just been released to the UK public free - on CD-ROMs of PC Magazine covers. Over 2 million copies have since been distributed world-wide, on CD-ROM and on the Internet.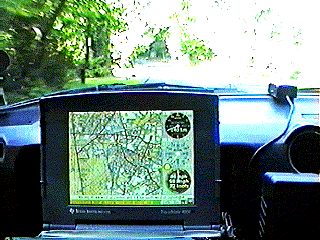 Businesses and enthusiasts in over 50 countries have been using it 'on the road' in Laptop PC computers connected to GPS receivers that now cost less than £100. This 'Do It Yourself' fraternity, did not want to wait for the long promised car navigation systems to arrive in their country - we are still waiting in the UK. We will not have long to wait now, but as with most high technology consumer products, I am afraid they will be available in the Far East first.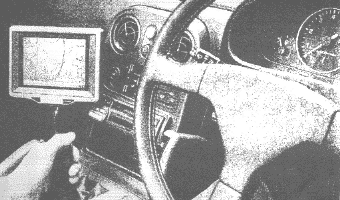 In August this year Sunninghill Systems signed their first multi-million pound contract, permitting a company to use the software in a consumer product. Until then GPSS had been used only in business, police and military projects. GPS Technologies of Singapore will be unveiling the 'Searcher 1' Car-PC to the public at the end of this month - when first deliveries start. This Pentium-based product has already appeared on Singapore TV, speaking and responding to spoken Chinese - GPSS now speaks English, Japanese, Mandarin and Malay. We hope to sign many more such deals around the world, including the USA and Europe.
Why not visit Stand 262 ? - We have a few treats in store :-)
What will we have on Stand 262 ?
The theme of Stand 262 will be this web site - used as wallpaper :-)
- although we will be obliged to have a few poster sized photographs, video, and computer demonstrations. As before, the most exciting things we show may be outside the exhibition - but this year we will be using cellphone technology and the Internet - to bring these demonstrations inside.
The aim of the Stand is to inform rather than sell; to answer questions : "what is GPS ?", "how can I use the free GPSS car navigation software ?", and - perhaps most useful of all - "how can the Internet help me ?".
On the subject of "what will we show ?", we would probably be advised to 'keep our powder dry', but options include: demonstrations of GPSS 'on the road' around Earl's Court, the London area, or anywhere in the country - perhaps one or two journalists need transport to the show; ability for 'Joe Public' to dial a number on their own mobile 'phone, hold it near a microphone, and see the computer track a hidden GPS/Cellphone device on a street map of London; dial a number overseas - on one of our 'phones - and track a vehicle in the far east - use your own 'phone if you do not mind the cost of the call; live access to the Internet, including use to provide live conversations by voice - not just email - with other GPSS users around the world; take a look on this web site - you can probably think of other ideas.
Sunninghill Systems will be supported by Moonlight Internet Services, who will be demonstrating how easy it is to use the power of the Internet.